About the Book
A World Perspective through 21st Century Eyes
- by R.K. Koslowsky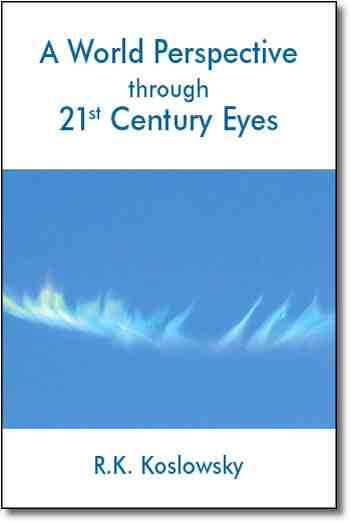 Praise for A World Perspective through 21st Century Eyes
"Although short, this book gives an answer to this question, and it does so in a manner that transcends particular cultures or geographic areas. Its author is refreshingly optimistic, and his attitude is one that is characteristically twenty-first century: that of celebrating human scientific and technological achievement. He realizes correctly that it is innovation that drives progress and defines what it means to truly be human. Curiosity, whether it is determined by genetics or natural background, or a combination of the two, is what distinguishes humans from other life forms."
"There is plenty of food for thought in this excellent book."
- Dr. Lee D. Carlson, Baltimore Maryland, 2009
Synopsis
As a community of citizens of the twenty-first century we are fortunate to have emerged from the biological evolution of the past million years and the cultural evolution of the past ten thousand years. We have enjoyed an abundance of time and freedom to explore the 'why' and 'how' things work and continue to push the limits of the present technological evolution. This book is not a history textbook nor a science history book. It is not a treatise on philosophy or theology. Rather, it is a book on the major themes in the evolution of humanity and the impact of science thereto. It is a book with the major theme adressing the impact of science on society; one in which the technical community has not had time to digest and reflect upon during the past fifty years.
Order directly from the publisher: A World Perspective through 21st Century Eyes
With the time pressures of the day and in the specializations in which we operate, there is precious little surplus energy available to us for leisure activity of our choosing. I trust that this treatment will sketch a broad outline that the scientific and technological community has had on society over the past five thousand years and potential areas where further impacts will be made in the next one hundred years. To this effort, I believe the reader will find his or her surplus energy well spent.
An engineer, to which my life's training was aimed, is expected to have a complete and thorough knowledge of some subjects. This is true for most of us in the technical community, therefore, it is also true that most of us choose not to write about many topics of which we are not master. I feel this separation of subjects and isolation of scientists and technologists does a disservice to others in other disciplines, who look for different views in order to maintain a balanced perspective on the myriad of issues confronting them each day. Thus, those of us who have grown-up in the Western Culture without a technical education, may find this discussion exciting in the different way it is broached. Just as an engineer appreciates the beauty of the Golden Gate Bridge and the precision of the clock, the inspiration from watching the setting sun, reading a biblical passage or viewing a Bouguereau painting can motivate and enlighten that same engineer. In this way, I aim to provide the reader, either technical or non-technical, with an appreciation of the evolving world from the viewpoint of one who has been technically trained. I cannot reproduce the sunset, paint or sing to inspire, but I hope these insights motivate you to pause and consider your area of expertise, with the aim for you to contribute that which has inspired and motivated you.
Questions About the Book
Q - How did you organize your book?

A - My book is organized in three parts.
Part I focuses on the biological and cultural evolution of humankind, from the appearance of homo sapiens to the end of the colorful eighteenth century. The notion of a balanced society is introduced as well as the availability of surplus energy.

Part II addresses the application of scientific knowledge in the nineteenth century and the flourishing of technological innovation. Science was migrating from a leisure activity to a profession.

Part III investigates the material impact of science and the rapid technological evolution of the twentieth century. The notion of 'sciencecology' is recognized, as humanity no longer seeks to dominate nature but looks to coexist and share earth's finite natural resources.


Q - What areas of science do you review?

A - In Part II I pay particular attention to the new scientific discipline of electricity, the maturing discipline of chemistry, and the blossoming discipline of biology.

The introduction of electricity modernized civilzation, extended humanity's daily activity, and took over many areas of physical labor. Surplus energy was on the rise.

Chemistry emerged from the qualitative milieu of alchemy. As a scientific discipline its newly found quantitative attributes moved laboratory discoveries into the arena of mass production. Witness the emergence of glassmaking, brewing, tanning, and dyeing.

Concurrent medical advances and introduction of vaccinations significantly increased human longevity in the blossoming field of biology. This scientific discipline was no longer a static system of classification but a dynamic field of inquiry jumpstarted by Charles Darwin's seminal work on natural selection.

Quality of life was increasing for a greater proportion of the population due to scientific discovery, application of science to industry, and an increasing level of energy consumption.

In Part III I explore the disciplines of communication, transportation, and physics.

Electricity spawned the field of distance communications. Geography was no longer isolating as the telegraph and telephone enabled instantaneous one-to-one communication. Time delays in moving information were obliterated. Broadcast communications, embodied in radio and television, enabled one-to-many communications. The emergence of the computer and the internet expanded the scope of democracy with many-to-many communications found in chat rooms and websites. This world wide web phenomenon allowed anyone from anywhere access to information at anytime.

The transportation discipline took off with the energy contained in the stored sunlight of oil. Fixed wing flight eliminated distance barriers and an entire industry devoted to air travel emerged.
Personal mobility was strengthened not only with the introduction of the railway, but with the affordable automobile. The resulting democritization of mobility meant anyone could travel when and where they wanted. The leisure industry emerged with an ever increasing level of surplus energy. Personal independence was being achieved at a rate never seen before in human history.

Physics was reinvigorated in the twentieth century with discoveries at both the macro and micro level. Einstein's theory of relativity changed humanity's view of space and time while particle physic discoveries led to the harnessing of nuclear power. Once again, scientific discovery had unleashed technological innovation and an ever increasing level of energy consumption.
Q - What do you mean by "stability" in your writings?

A - Stability in society begins with the individual. Families must be nurturing, churches must reinforce morals, schools must educate by ensuring critical thinking skill development, sports must instill a positive spirit of cooperation and competition, arts must teach the power of expression, community clubs must develop individual interests, government must ensure safety, stability, and infrastructure support, nature continues to teach us that change is a constant, and experience must be afforded to instill wisdom in judgment and choices. If an individual can strive to achieve aspects of these traits, he or she, and the society in which they influence others, will become or remain stable.
Addressing Technological Issues through the Power of the Short Story
During the last half of 2006, Rob penned a couple of short stories looking at the dangers of one of the most important foodstuffs in human history - corn - and the unleashing of element 17 - chlorine - through industrial chemistry. The short story is an effective medium to impart relevant information in as short a time as possible. As Washington Irving said in 1824, "...but in these shorter writings, every page must have its merit." And with this guidance in mind, Rob wrote "Chloromaton" and "Cornbot." If I have been successful with my first two published short stories, then, as Irving goes on to say, "...their very brevity, make them frequently recurred to."

In, Chloromaton, The Double Life of Element 17 Rob was inspired by Joe Thornton's book "Pandora's Poison," which highlights the good and evil aspects of chlorine. Chloride salts are natural and sustain life while chlorine gas, used to produce organochlorines, is artificial and can destroy life. Enjoy Rob's incarnation of the chlorine wars, set in the legal confines of the deposition process; Chloromaton, The Double Life of Element 17.

Rob's short story, Cornbot: Corn, Life, and the Bottom Line was completed in October 2006. It was inspired by Michael Pollan's book "Omnivore's Dilemma," which provides a compelling argument against the world of corn that has come to rule our diets in the 21st century. Be sure to take in Rob's short story, set in Iowa, as two environmental extremists consider use of violence as a means to secure social change; Cornbot: Corn, Life, and the Bottom Line. As one reader, a retired nurse commented, "Very interesting and informative. Great story! You described accurately the basic dangers of high fructose corn syrup. It is certainly contributing to obesity and the resulting complications."